A poll came out from Monmouth University that asked COVID-19 pandemic questions through a political lens.
The results are not surprising at all. Just like how leftists have some how convinced themselves that climate change is going to kill us all 5 years ago, they have also become overzealous worriers about the Chinese flu.
This study just confirms what every sentient person already knew.
The study methodology:
The Monmouth University Poll was sponsored and conducted by the Monmouth University Polling Institute from April 30 to May 4, 2020 with a national random sample of 808 adults age 18 and older.

This includes 285 contacted by a live interviewer on a landline telephone and 523 contacted by a live interviewer on a cell phone, in English. Telephone numbers were selected through random digit dialing and landline respondents were selected with a modified Troldahl-Carter youngest adult household screen.

Monmouth is responsible for all aspects of the survey design, data weighting and analysis. The full sample is weighted for region, age, education, gender and race based on US Census information (ACS 2018 one-year survey).

Data collection support provided by Braun Research (field) and Dynata (RDD sample). For results based on this sample, one can say with 95% confidence that the error attributable to sampling has a maximum margin of plus or minus 3.5 percentage points (unadjusted for sample design)
Here are the key takeaways:
Or direct from the study:
Notice the political difference between "very concerned" versus "not at all concerned"?
It was pretty obvious to conservatives that the response to COVID was ridiculous.
To democrats? Tanking the economy and handing over power to morons over the seasonal flu likely wasn't even a big enough response.
Another fun fact:
The vast majority of republicans think that we will be able to limit the impact of the outbreak. That's called optimism. Or it's called a basic understanding of statistics.
Meanwhile, the leftist numbers are exact opposites.
The most hilarious part about this is that the only reason we wouldn't be able to limit the impact of the outbreak is if the leftists keep getting in the way of reopening.
It's self-fulfilling in their blue states.
We can't claim that science is how any of us determine our views on COVID. Right or left. Because the science has been wrong since the beginning. It is pretty scary how easily people can be duped by insane-assumption models and improper statistics. It's even more frightening that these same people call it "science" instead of what it is: political belief and blind trust in the "experts".
The reality is that the numbers are a lie, our fiscal response is insane, and we need to remember the COVID panickers when this ends.
Oh, and the we can't forget the "experts". There's a reason conservatives don't trust them. It's because the experts suck at their jobs. They forecasted millions dead. They'll be lucky to get numbers that reach a similar vein to a notoriously bad flu year.
But they'll keep doing everything they can to beef up the fake numbers to make themselves look less moronic. Grandma tripped down the stairs? Clearly a COVID death.
How sad that we have gotten to a point where even a pandemic becomes polarizing.
In related news: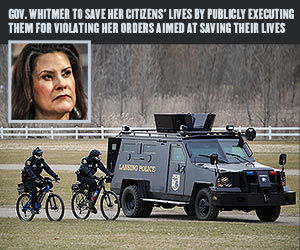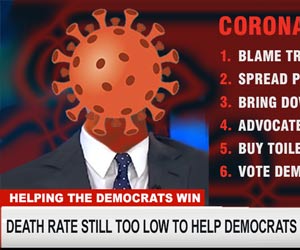 If you enjoyed this article, bookmark the website and check back often for new content. New articles most weekdays.
You can also keep up with my writing by joining my monthly newsletter.
Help fight the censorship – Share this article!