Election Results If Only Certain Demographics Voted
I think most of my readers have probably already seen this map, which tracked the 2016 election breakdown. But if you haven't:
(right click -> open image in new tab for larger view)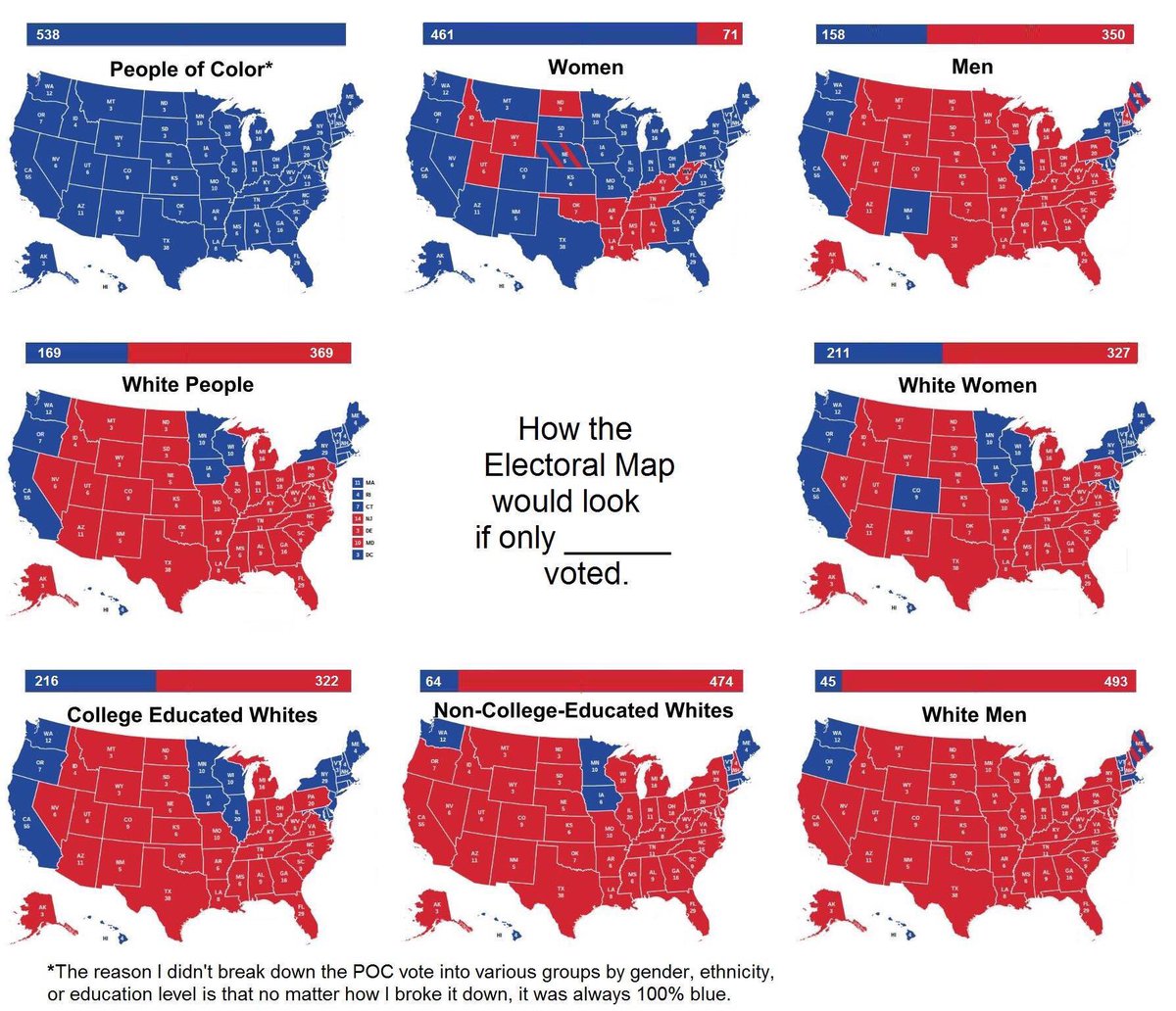 I recently stumbled upon a similar map for 2020 from DataIsBeautiful.
It's very interesting and there were some significant changes from last time.
View it here:
It's an interesting breakdown. I'm shocked how many states that went blue in the "Men" category, but I guess that's probably a side effect from the rise in soy.
The strongest indicator is rural vs urban, as usual. But white versus POC is still up there. No surprise on the married versus single vote. And of course, the longer you're stuck in the indoctrination camps at college, the more likely you are to vote blue. I'm fortunate I survived in university after so many years scratch-free.
A lot more Catholics are blue compared to Protestants, as well. But we already knew that. The only time California cracked (aside from the day-of-voting, which was all Trump) was on the Protestant map. Stay strong, Protestant brothers.
Alaska is an interesting anomaly for certain categories. Surprisingly, Oklahoma is the most solid red state of them all.
I wouldn't put too much weight into the 2020 map for certain states. We all know what happened this election. But it's interesting to review on a macro-level, nonetheless.
Even if only certain demographics voted, the red is still going for neo-cons, so the situation wouldn't change drastically. But it is telling for certain key points that most of us already know, but need to have further data to validate.
Read Next:
A Single IQ Illustration Worth A Thousand Articles
The Unequal Effect When Comparing Capitalism And Socialism
The Grey Masses Finally Start Waking Up
If you enjoyed this article, bookmark the website and check back often for new content. New articles most weekdays.
You can also keep up with my writing by joining my monthly newsletter.
Help fight the censorship – Share this article!