Starting from the beginning: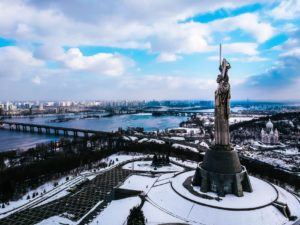 In 2006, a Ukrainian prosecutor by the name of General Viktor Shokin was investigating corruption in Ukraine. This corruption investigation involved Burisma Holdings, a major player for natural gas in Ukraine. Hunter Biden, Joe Biden's son, was a director for Burisma Holdings.
The prosecutor, Shokin, identified that Hunter Biden received over $3,000,000 from Burisma Holdings. He believed this money was potentially tied to corruption. He furthered the investigation into the Biden family.
Joe Biden did not want an investigation into his son or the company going public. So Joe Biden used loan guarantees (which were in the billions) that were promised Ukraine as essentially, blackmail. He directly told Ukrainian officials to "remove" the prosecutor, Shokin, or to lose the loan aids and the support of Biden.
This is not a joke. You can actually watch him say exactly that in person, on camera, right here.
So how exactly does this relate to Trump & Zelensky?
Trump & Zelensky Ukraine Impeachment Scandal
Well, the democrats are asserting that Donald Trump should be impeached because he asked for Ukraine to falsely give dirt on the Bidens for political gain. He did this by (in their words) "withholding military aid from Ukraine pending an investigation into Burisma Holdings".
But that didn't actually happen.
You see, the democrat's source of information was an unnamed whistleblower who didn't actually hear the call.
Trump released the full transcription of the call with Zelensky, which you can read here (or the archive here). It actually has no mention of anything illegal or unethical. Nor any mention of withholding military aid.
Actually, quite the opposite. Trump and Zelensky talk about selling military equipment and bettering the country's alliance.
However, Trump did make a statement saying he believes the whole Russia theory started in Ukraine.
And it did.
Crowdstrike, a cybersecurity contractor, was the first source of the previous "Russia collusion" scandal. Crowdstrike ran the DNC servers in 2016 and claimed that Russia hacked into them.
Little known fact: the FBI tried to investigate this, but Crowdstrike refused to let them examine the actual servers. They refused everyone and anyone from examining the servers. So there was no actual investigation into it, just a random company that received millions by the DNC saying exactly what the DNC wanted them to say.
Supposedly, the Crowdstrike servers are now in the hands of a Ukrainian oligarch.
Trump asked Zelensky to:
"I would like you to find out what happened with this whole situation with Ukraine, they say Crowdstrike… I guess you have one of your wealthy people…The server, they say Ukraine has it"
So Trump asked him to investigate it. Probably because Trump knows it has nothing on it and wants it to be made public. Otherwise, he'd be much more adamant about having no one find it.
The Ukrainian president's response? He said:
I guarantee as the President of Ukraine that all the investigations will be done openly and candidly.
Which Trump agreed to.
Trump does bring up Biden by saying the following:
"a prosecutor who was very good and he was shut down and that's really unfair,"
"There's a lot of talk about Biden's son, that Biden stopped the prosecution, and a lot of people want to find out about that, so whatever you can do with the Attorney General [William Barr] would be great."
Pretty tame, really. No mention of forced defense treaties or anything. On the contrary, what Biden said in the video above about him withholding $1 BILLION in IMF loan guarantees to Kiev is quite more open:
"I looked at them and said: I'm leaving in six hours. If the prosecutor is not fired, you're not getting the money. Well, son of a b*tch. He got fired."

Joe Biden
Biden is referencing Viktor Shokin, the one investigating Biden's son.
Ironically enough, the replacement (Yuriy Lutsenko) did nothing to probe the gas company and let them off the hook and stated that the US embassy in Kiev gave him a "do not prosecute" list.
Lovely.
Let's take politics out of this.
Forget about Trump, forget about Biden.
Let's pretend it's just two guys we don't care about.
If we do this, we can see this whole "impeachment" scandal pretty much is just another round of people saying Trump is bad for no reason. Trump didn't withhold anything from Ukraine. In fact, it looks like our alliance may actually be in better conditions than it was previously. Trump didn't try to force Ukraine's hand, just mentioned the investigations. And all Trump did was mention two investigations that the previous president failed under and that may be tied to corruption.
Joe Biden, on the other hand, clearly got a prosecutor fired that was investigating corruption. His son oddly got $3 million dollars from a foreign-held oil company that was being investigated for corruption.
It is clear here which one is a bigger story, and it is not Trump.
The cherry on top? This is Ukraine. The same country that has the (likely unhacked) Crowdstrike servers. Because it's common sense that if Russia actually did hack them, Crowdstrike would have let LEO investigate the servers to furnish more evidence.
But they didn't.
Because it didn't happen.
Just like Trump withholding military supplies from Ukraine to force an investigation, also didn't happen.
And now there is ample evidence.
The country is living in fairy-tale land, and it's all thanks to the media and the politicians.
(You may also be interested in 18 Instances of Mainstream Media Distorting the Truth to Fit a Political Agenda)