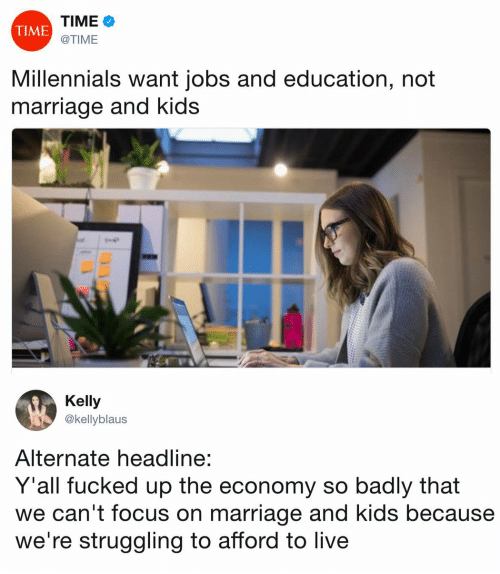 Millennials want jobs and education, not marriage and kids, says TIME. An apt alternative headline would be" Y'all fucked up the economy so badly that we can't focus on marriage and kids because we're struggling to afford to live."
Millennials Want Jobs and Education Instead of Kids… Or Do They?
Sure, we have plenty of millennials that value a meaningless pursuit of rapidly inflating IOU's over family bonds and shit that actually matters.
But to assume that a majority does is rather shortsighted.
While this is a meme, it's a meme that actually rings truthful.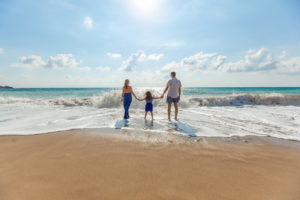 It's pretty difficult to have a marriage and kids in a society where we can barely afford to pay rent as a young adult. It seems surprising to a lot of the older generation that millennials avoid having children, but is it really that surprising? How are we supposed to afford these kids and give them a decent life when half of us are eating ramen noodles for dinner most of the time until our mid to late twenties?
At this point, it only makes sense that the childbearing and "until forevers" are delayed. We don't really have any other option, besides raising them in squalor until we can finally afford a one bedroom in the city that will still eat every other paycheck we get in rent costs.
It's a different world now than the older generation is used too. You don't immediately leave school and get jobs or stay at the same job your entire life. You don't immediately get a good job because you have a bachelor's degree, or hell, even a M.A.
It takes years of education, networking, working low-paying jobs, and building up your brand before most of us will even make a sustainable-enough salary to raise a kid.
And then you have these tabloids clearly written by the older generation trying to assume that we want education and jobs instead of marriage and kids. When that's clearly not the right correlation to assume.
Instead, we want to be able to survive off the streets before we try to help another little one survive with us.