The mainstream media clearly has their biases. They do what they are told. Whoever is financing them is sure making a killing. Thought control brings back a lot of revenue for little investment.
Now I've written on why you shouldn't trust the mainstream media plenty of times before.
But with the Susan Rice Scandal, and evidence of the Obama administration colluding with the media to spy on Trump's campaign, it got me thinking.
Why isn't the mainstream media elected?
If the principal point of the media is to push a political agenda, it sure sounds an awful lot like, I don't know, a political party?
Why not make it completely obvious to everyone, and just come out and say you're controlled by the leftist establishment?
At least then we could have a bit of transparency in media. Then, they could still present their "facts", but at least everyone would know to fact-check them prior to just believing in whatever shenanigans the media is trying to spout like a rabid hyena.
It's no secret that the leftists are full of fallacies. If top media representatives had to be elected, then they could at least get a pass for their pathos over logos reasoning. Like you know, Obama and Susan Rice.
We could have some wonderful media campaigns, where the media attempts its hand at getting the general population to vote for them to deliver the most trustworthy news for the public at large.
I mean, in all reality, the media has a far stronger stranglehold on the population than the government in our current system. Most people know the government is untrustworthy. But they don't tend to think that the all-mighty journalists are. They just believe whatever the anchor or journalist tells them to.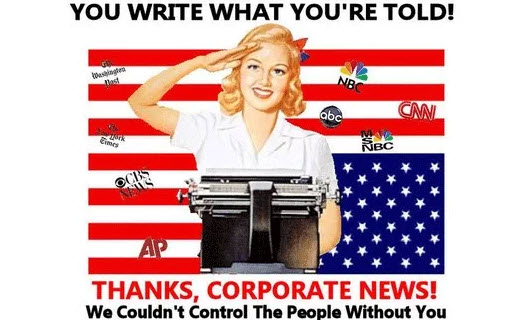 Heck, even Noam Chomsky wrote about how bad the media can be in his book Manufacturing Consent. Remember that title: "Manufacturing Consent" the next time you listen to the media.
So it's not really even a question of politics, just a question of who knows that the mainstream media is corrupt versus who doesn't.
Don't forget the money
And at the end of the day, it all runs back to money. As I mentioned, these corporations get paid by viewership and sponsors. They get paid to put out information that aligns with the views of those who control them the most. Which, at this time, is wealthy owners.
They know how to manufacture consent. They know how to bury stories and let their politicians get a free-slide off the scandal.
So why not just become a political party? They can campaign just like all the other politicians.
And it will be an outstanding spectacle to watch.
The truth is, we know exactly why the media aren't directly elected. It's so they can hold that cloud of journalistic apolitical "integrity" over the masses. Even though it doesn't exist now and never will.
They can pretend to be unbiased, which is a much stronger strategy than being out in the open.