Consumer Confidence
Consumer optimism in the economy declined ever so slightly. Overall, consumers are still very confident about the economy and their own personal finances.
End of October, the index was 98.6, which is down only 1.5 from September's reading.
Keep in mind this number is not far below the 14-year high (which was at 101.4) that occurred in March.
Likely, this small reduction is tied to the stock market declines and rising interest rates.
Consumer Inflation
Inflation has gone up as I talked about in the last article.
House prices continued to rise, but the overall rate of appreciation has started to decline.
It is likely that goods and house prices will continue to rise throughout the year. The National Association of Realtors (NAR) is anticipating that home prices will increase 4.8% overall in 2018 and 3.5% in 2019.
Unsurprisingly, home sales fell for the fourth straight month as well. Inflation causing the prices to increase makes it even harder to get a home. This, along with rising interest (mortgage) rates, certainly doesn't help the already inflating home prices.
GDP
GDP in Q3 is at 3.5
For comparison, it was an amazing 4.2 in Q2, and 2.2 in Q1. So we're still seeing amazing gains and an overall good economy.
Wages and Salaries
Real earnings took a nosedive in Q4 2017, but they have since started to rebound.
In Q4 2017, they were 345 (1982 adjusted dollars). They are currently at 355 for Q3 2018.
Stocks
S&P 500 continues to take a dive.
It fell 2.1% from last week's average and is only 1.5% above the last week of 2017.
Likely to see a rebound soon, as this appears to be a pretty steep market correction.
Unemployment
Unemployment continues to decline. We were at 5.3% in 2015, 4.9% in 2016, 4.4% in 2017 and now 3.7% current (Sept 2018).
Which means less crime.
Oil
Crude oil cost fell $2.80 this week. It is now at $67.50 (lowest since August)
Regular gasoline declined a few pennies. It is now at an average of $2.84.
Overall – Economy Update October 2018 Month End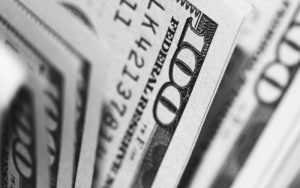 I'm pretty optimistic looking into the end of the year 2018.
Typically, consumer spending increases dramatically as the holidays arrive. This will help numerous sectors that are lacking in the economy and help with the stock market rebound as consumer spending skyrockets.
I doubt we'll see much of a change in house sales going into the future, however. The rising interest rates by the Fed and constantly increasing prices are only going to drive down demand. Well, there may be demand, but the people that want them can't afford them.
It's good news seeing real earnings up (more money for us). And likewise good seeing unemployment down (less crime for us).
Inflation does not appear to be slowing any. Hopefully, this can be reined in during early 2019.
Overall, we're at a solid spot right now. My prediction is that it is likely upward from here, entering the rest of 2018.