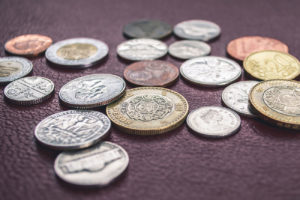 Here's a quick economy update for October 2018.
Consumer Confidence
Consumer confidence declined slightly (slipped down 1.1 points to 99.0 according to Reuters consumer sentiment index).
Despite this small dip in October, consumer confidence is still at an all-time high. So nothing really to worry about here.
Consumer Inflation
Consumer inflation was 2.3% over the year ending in September.
This is well above readings from years prior.
Not the best to see, but it could be far worse. I'm expecting to see it increase annually, especially with other rates going up.
GDP
GDP continues to blow up from preceding years. It increased at an annual rate of 4.2 percent in the second quarter of 2018. See the BEA chart for a better idea: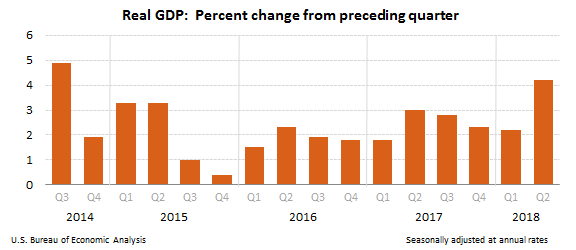 Wage Increases
Average hourly worker pay (adjusted for inflation) is continuing to grow, but at a rate smaller than that of a few years ago when inflation was running close to zero.
Real average hourly earnings increased .5%.
Stocks
Stock market took a decent hit this week. The S&P 500 dropped 3.5% from last week's average, as the market volatility spiked to twice the levels seen in earlier October.
Keep in mind, the S&P is still 4.8% above its average over the last week of 2017. Nothing to fear yet.
Likewise, Treasury notes are down (10-year fell to 3.15%). But it jumped up .2% the preceding week, so it evened out overall.
Unemployment
The unemployment rate continues to drop down.
It is expected to hit 3.5% by the end of next year (2019).
Will be interesting to see if it actually follows those projections. But, definitely good news on this one.
Especially after my post on the job market.
Oil
The average oil price declined to $72.90 per barrel, while the average retail price of regular gasoline rose to $2.90 per gallon.
Which is odd. Usually they are correlated. Interesting to see oil drop and regular gas rise. Maybe something going on behind the scenes? OPEC shenanigans?
Future Outlook
Looking forward to Q4, we're expecting to see Real GDP Growth jump to 3.1 (from 2.3), unemployment to drop to 3.7 (from 5.3), and consumer price inflation to jump significantly to 2.5 (from 1.3).
Keep a lookout on stocks, and how they are acting going forward. We haven't seen a big drop in a while. Maybe this slight correction will be all that is necessary. However, we haven't had a steep drop in a while, so it could be a signal for future corrective action.
Likewise, if you're looking to make any significant purchases, then now would be the time to do it. Consumer inflation is looking like it is going to continue to go up, so spend now to save later.
All the best.