Be careful my fellow authors: if you host with WordPress you may get shutdown if you don't align with their belief system.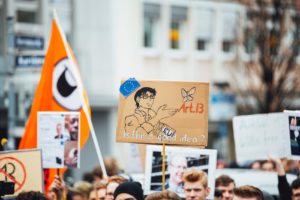 Chateau Heartiste just recently got canned by WordPress.
Why?
Ideological differences. WordPress didn't agree with the things he said. You know how it always goes. Same with Infowars. Same with social media.
So the third pillar has started falling: hosting providers. First news. Second, social media. Now the hosting providers. Wonder if GoDaddy and the others will begin to follow suit.
Before you know it, we'll all have to be hosting out of East Europe or Switzerland. That is, if they don't also go for ISPs as well.
Seems like the natural progression of censorship. Take them out from news, take them out from social circles, then finally take down their websites. No more interconnection available for them anywhere online, except in very hidden corners most won't put the effort into going too.
So, we become isolated. Isolation. Which is exactly what happened in many old apocalyptic books, such as 1984, Brave New World, and Animal Farm. And which is always how more tyranny begins.
Sad, really. I actually made an article specifically about Heartiste back in the day. The guys over at that blog were champs. I hope that they are able to get it up and running somewhere else.
And more importantly: I hope they (or someone) have a backup or their posts. Years upon years of insight lost, in one fell swoop, by politically correct assholes.
Some general lessons from this:
As society continues downhill, nothing is safe.
Don't host with WordPress. You can use them to blog as a platform, but if you do anything slightly controversial and host with them you run the risk of getting clicked out of existence.
Always keep a backup
Here is to you, fellow bloggers. Hopefully, we're not on the chopping block next.
But get off WordPress if you can.