George Orwell was an apocalyptic literary giant. I already wrote an article about my favorite quotes from 1984, but I think it's time we talk about Animal Farm. Animal Farm is another amazing (albeit short) piece of history, and one that I don't think gets a fair amount of discussion. 1984 tends to always dominate the conversation.
Animal Farm By George Orwell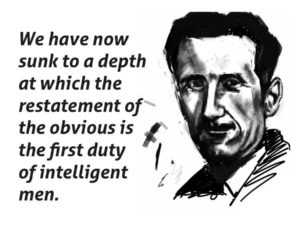 Animal Farm is a classic satirical allegory about the abuse of power. It's a short read, you can easily finish it in a day, but it will be one of those books that you will remember forever.
The story is not hidden in the title; it is about an animal farm. It chronicles the tale of the animals fight against the ruthless (totalitarian) leader of Manor Farm, and the revolution that accidentally ensues.
The book follows the animals after the revolution, when things look so bright. The situation on the farm is drastically improved for the animals as a whole after the vicious revolution.
Then, it follows the newly constructed "Animal Farm" as the pigs centralize power, and use it to change the narrative and lead the animals down a dark path.
By the end of the book, you'll have a hard time telling the difference between the authoritative Manor Farm leadership and the "leadership" of the pigs.
In a unique fashion, Orwell slaps the leadership of the USSR by using pigs as their synonym.
The book is an excellent read. If you've enjoyed past Orwell books and haven't picked this up, you really should.
And even if you haven't read his previous books, this is a perfect introduction. It will get you hooked on his writing style.
One part I especially enjoyed was the ending. I wouldn't want to spoil it for any of you, so I won't mention it directly here. But the final paragraph is really insightful into how exactly it all ties together.
When you read it, make sure you pay special attention to how the ending is worded. A lot of people miss the obvious and end up having to look it up online. (Not that I would know from experience or anything…)
Appendix 1
Another small tidbit I'd like to point out is the first Appendix of the version I will link below.
It's titled "Orwell's Proposed Preface to Animal Farm."
I think a lot of people skip over it or miss these at the end of books, but this one in particular is worth the read.
I'm going to quote some parts from the very end of his proposed preface here as an insight into the thoughts of Orwell:
For quite a decade past I have believed that the existing Russian regime is a mainly evil thing, and I claim the right to say so, in spite of the fact that we are allies with the USSR in a war which I want to see won. If I had to choose a text to justify myself, I should choose the line from Milton:

By the known rules of ancient liberty.

The word "ancient" emphasizes the fact that intellectual freedom is a deep-rooted tradition without which our characteristic western culture could only doubtfully exist. From that tradition many of our intellectuals are visibly turning away. They have accepted the principle that a book should be published or suppressed, praised or damned, not on its merits but according to political expediency.

And others who do not actually hold this view assent to it from sheer cowardice. An example of this is the failure of the numerous and vocal English pacifists to raise their voices against the prevalent worship of Russian militarism. According to those pacifists, all violence is evil, and they have urged us at every stage of the war to give in or at least to make a compromise peace.

But how many of them have ever suggested that war is also evil when it is waged by the Red Army?

Apparently the Russians have a right to defend themselves, whereas for us to do [so] is a deadly sin.

One can only explain this contradiction in one way: that is, by a cowardly desire to keep in with the bulk of the intelligentsia, whose patriotism is directed toward the USSR rather than towards Britain. I know that the English intelligentsia have plenty of reason for their timidity and dishonesty, indeed I know by heart the arguments by which they justify themselves.

But at least let us have no more nonsense about defending liberty against Fascism. If liberty means anything at all it means the right to tell people what they do not want to hear. The common people still vaguely subscribe to that doctrine and act on it. In our country – it is not the same in all countries: it was not so in republican France, and it is not so in the USA today

– it is the liberals who fear liberty and the intellectuals who want to do dirt on the intellect. It is to draw attention to that fact that I have written this preface.
And what a beautiful preface that is.