What Is Atlas Shrugged?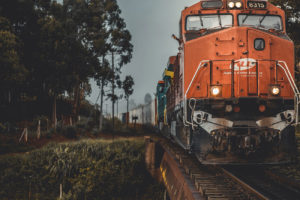 Atlas Shrugged is Ayn Rand's magnum opus.
It is your classic dystopian novel (my favorite genre, if you haven't caught on by all my other reviews). It highlights a well-functioning, self-sufficient country (USA) that later turns into a collectivist hellhole. IE: dystopia.
It follows the story of Dagny Taggart, as she struggles against "looters" (socialists) that seek to control all businesses and take all of their output in the name of the public good.
As the story progresses, more and more of the prime businessmen and women that created the well-functioning society just give up. In essence, they stop working altogether in protest against the looting.
As the strike continues to escalate, more and more of society collapses. Thus creating the dystopian mess that Ayn Rand depicts so vividly in Atlas Shrugged.
Who Is Ayn Rand?
Ayn Rand is a Russian/American author and philosopher that lived through collectivism in the Russian era.
She was a staunch proponent of individualism. So much so, she created the philosophical system known as "Objectivism". This system purports that reality exists independently of consciousness, that we (humans) have direct contact with reality through logic. In addition, it holds that the highest moral purpose in life is the pursuit of one's own happiness, within the confines of laissez-faire capitalism. While I do not agree with this mindset, it is still a unique book and a great read.
She also wrote Anthem, which I reviewed here: Anthem by Ayn Rand.
Why Is Atlas Shrugged Such An Interesting Read?
You'll fall in love with the characters of this book. I rarely relate or care about people in novels, but Atlas Shrugged changed that. Between Dagny, Hank Rearden, Lillian, Eddie, and my personal favorite (Ragnar Danneskjold), there is a certain element of character development that seems sorely lacking compared to most other similar novels.
Ayn Rand wrote the novel in a common style writing, so every piece is highly readable. Which is essential, considering it is 1168 pages long. But don't let the length scare you, just consider it a book to read for a little here and there. Before you know it, you'll be hooked and wanting to power through, regardless of page count.
It's also a novel that is still relevant today. It is particularly relevant with regard to the philosophical debate about collectivism that is present in the Western world. Everything in this book revolves around things such as freedom of speech (and thought), private property, private enterprise, entrepreneurship, and government regulatory oversight.
Then within this broad theme, we have many tidbits of spiritual reflection and even romantic interest.
In short, Atlas Shrugged contains a bit of everything. Moreover, when you figure out why "Atlas Shrugged", you'll have a little mind-blown moment from the unexpected twist.
Naturally, I don't want to give any major plot points away. It would spoil the fun of the novel. But as you read through, pay close attention to the actions of Lillian. She plays background for a long time, but is one of the most interesting characters.
It is hard to imagine a more thought-provoking book that considers government structures and the collectivist nature. You can see a parallel in the modern movements of American society.
In summary, I am thrilled I tackled this mammoth of a text. It taught me a tremendous amount and has easily become one of my top three favorite books.
It's not likely that this book will suit everyone, I get that. However, for the readers of this website, I'm positive you all would love it if you haven't read it yet.
Also, you will never be able to look at a train or railroad track the same way again after reading this. So fair warning.
Personal Implications
Atlas Shrugged does require you to take a serious look at yourself and your actions. It is natural while reading through that you'll contemplate yourself in the characters' situations, and even begin to see the principles of the text in your everyday life.
It can be a bit of a "lecture" at points. And some people don't like to be lectured or expand their thoughts outside of their bubble. This book forces that, so I get why some people (especially the socialist-minded) dislike it.
In over 1000+ pages, Ayn Rand teaches you to think with your mind, not your heart. This trait then results in actually being more caring and doing more good than thinking with just your heart.
In Ayn Rand's perfect society, even teachers and stay at home moms were considered the "atlases" of the world. All it took were the right beliefs and the dedication to their own values to help them reach the peaks of their own happiness.
In short, if you can't handle looking at your own imperfections and faults, don't read it. But if you have an open mind and are willing to learn something while enjoying an outstanding storyline, grab a copy.
Atlas Shrugged Final Note on Size
A.S. is an affordable book, especially for the size. I always recommend getting a paperback or hardcover. Mass-market paperbacks are cheaper, but they are hard to read, as the book and text are small.
For a book the size of Atlas Shrugged, it's best to go with a larger sized edition to make the reading easier.
I say this, but I actually bought the mass-market paperback because it was cheaper. So do whichever suits you.
The main key here is actually reading whichever style you buy.