Every person in the United States is governed by the Constitution.
This constitution grants the right to own firearms.
We remove this right for people in the US convicted of a felony.
Thus, felons cannot have firearms.
But why?
If a felon is dangerous, why are they released?
What difference does it make if they can buy a gun or not?
I don't want any violent person on the streets to begin with. Much less having access to a gun.
Consider two situations, one in which a felon is dangerous and one where they are not.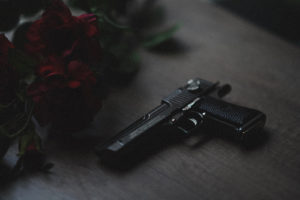 In the first situation (a violent felon), why are they released from prison to begin with? Whether they cause harm with a gun or with another weapon is irrelevant. They are a threat to society and should not be released. Due process removed them from society, it should keep them removed to prevent further harm.
In the second situation (a reformed felon or nonviolent felon), why are they prohibited from "a human right"? We release them, so we apparently consider them safe within society. We consider them reformed. So why can't they have the same rights as others?
To compound this issue, more crimes are felonies now than ever before. "Felon" used to be reserved for the most significant crimes. Murder, rape, serial killers, child sexual offenders. Now, we consider a relatively minor white collar crime or juvenile delinquency a felony.
Which prohibits even more individuals from exercising a constitutional right. More crimes are felonies = more felons = fewer people can own guns = fewer people are covered by constitutional rights.
We remove a felon's right to certain freedoms (free movement, certain aspects of free speech, etc) when they are convicted of a crime and imprisoned. But we should center prison on either reform or rehabilitation: once they are released, we should consider them reformed. And if they are reformed, they are no longer violent. If they are no longer violent, why are they refused their constitutional rights? And if they are not reformed, why are they released?
I don't want any violent offenders being released that might cause more harm. It has nothing to do with them having access to a gun or not. Keep them locked away for the safety of society. But a man that read his neighbors' mail or avoided $100 in taxes should not be completely revoked of his rights by due process for all eternity.
There is a difference between violent felons and nonviolent felons, especially in the modern age of law.
Individuals in the court and judicial system should have to sign off on prospective releasees, especially violent ones. This way, someone can be accountable if one prison or person is releasing many violent repeat offenders. Through this method, we could also track who and where the repeat offenders are generally coming from. We could also track where the rehabilitation successes are happening. Onetime failures would not be a mark against the judicial sign offs, but an endemic issue would raise eyebrows.
Murderers should not have access to guns. Violent rapists should not be able to purchase weapons. Child sexual offenders should not have firearms. But we shouldn't be letting these people back into society in the first place.
But what about the "felon" who committed minor tax fraud or failure to return a rental car? Sure. Give him back the 2A right after being reformed. It's about finding a logical medium-ground. Some felonies are bogus and should not be considered violent. Other felonies are violent and should have a different standard.
Guns for Felons
In conclusion, if someone is a menace to society, why are they allowed to exit prison in the first place? The debate on guns is irrelevant. They should remain behind bars until we prove them to be fully reformed. And if they are reformed with appropriate justice, why are they not allowed to have the same rights as anyone else?